NFPA guidelines require turnout gear to be retired 10 years from the date of manufacture. However, sometimes turnout gear needs to be replaced before the 10-year mark. Once the protective properties of the gear have diminished, it is no longer safe to use. This blog will cover some reasons to retire your turnout gear and what to look out for.
10 Year Retirement
Turnout gear should be replaced 10 years from the date of manufacture for several reasons, including:
Advancements in technology and NFPA requirements over the span of a decade
Overall wear & tear
Retiring Before 10 Years
As mentioned before, sometimes bunker gear needs to be retired before the 10-year mark. Some of these reasons include:
Contaminated from an incident that's either unsafe to handle or cannot be effectively cleaned to return PPE to service
Exposed to extreme fireground temperatures that cause significant damage
The gear is deemed defective
It has been worn down or beyond repair
No longer compliant with NFPA standards
Workplace requirements have changed, and the gear is no longer usable
Performance properties of your gear are important to pay attention to. Some exposures can break down materials in your gear, while others can reduce barrier properties that are designed to keep you safe. In addition, soiled gear can provide less breathability than you're used to, which can increase the chance of heat stress.
Many other circumstances can make your gear ineffective, so it's crucial to have your gear serviced by an ISP for advanced cleaning and inspection. An ISP can give you recommendations on repairs and when to retire your gear.
Below is a graph of a turnout gear depreciation calculator that may be useful when investing in repairs.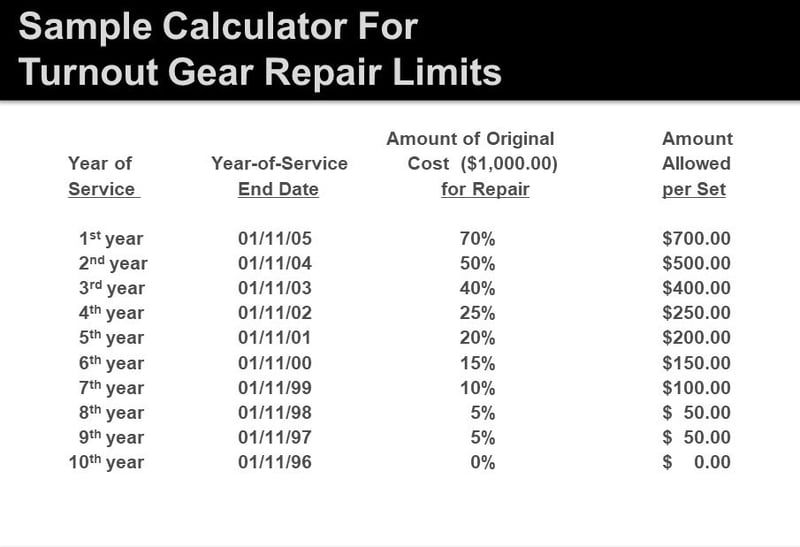 Ultimately, turnout gear is made to keep you safe. Natural wear and tear happens over the years, and that may affect the ability for the gear to do its job. It's important for you to keep tabs on your bunker gear to make sure it's still compliant, effective, and safe.